The Best Demountable Walls and Soundproofing Ideas for Your Office
Open-concept office spaces can help boost collaboration and present a few unique challenges. For workers, staying productive and on-task can be tricky, particularly when they can see and hear everything around them. However, with a few smart and simple solutions, you can create a sense of privacy and support employees' needs in the workplace.
This guide will explore how demountable walls and partitions can help you create a functional space that nurtures productivity by providing visual and acoustic privacy when and where needed.
We will cover key topics such as:
The various purposes of soundproof partitions and demountable walls

What to expect from soundproof room dividers/partitions

Features to consider when searching for partitions/walls for your office

A few of the best office partitions and demountable walls available now
Let's get started.
Why Your Office Needs Walls and Partitions for Soundproofing
The most obvious purpose of demountable walls and partitions in an office is to offer a certain level of acoustic privacy.
They can also create visual privacy, ensuring that individual employees aren't disrupting (or being disrupted by) others. Achieving these basic goals enables you to keep disturbances to a minimum, preserving productivity and allowing employees to feel connected to their separate working areas.
Beyond these benefits, dividers, and partitions also contribute to the office in other ways. They can effectively direct foot traffic so that employees and visitors have a clear path that doesn't interfere with others' spaces.
You can also utilize partitions and walls to divide specific areas of a space according to function, creating "zones" for various purposes. For example, you might opt to use partitions to establish private meeting rooms along the edges of an open-concept office so that there is an area for personal conversions. Or, you might set up partitions to create a collaboration area that will not impede individual work.
Ultimately, office partitions can play a crucial role in virtually any office, empowering you with the flexibility you need to design a space that aligns with your company's needs.
What to Know About Soundproofing Products
Several different types of room dividers and partitions can provide varying levels of soundproofing. That being said, none will completely silence all sounds – even a structural wall allows some sound to pass through. But in terms of the typical volume of office activities, which is usually low to moderate, soundproof walls and partitions can make a significant difference.
Depending on your products and set-up, you can generally expect dividers and partitions to dampen sounds noticeably in the office. In addition, the visual privacy they provide also lends itself to improved productivity overall.
Considerations for Shopping for Soundproof Partitions/Walls
Before we look at specific products that excel in this category, let's review some key features and characteristics you'll want to be aware of during your search.
Partition Size
Most free-standing partitions are not completely designed to cover the open space between the floor and ceiling. On average, partitions are four to six feet tall and five to six feet wide. Depending on your selected provider, there may be options for customization. But in general, you'll want to factor partition size into the planning process.
Partition Material
You'll find a wide range of materials to choose from, each one with its own pros and cons.
Acrylic is a popular option and is often given a frosted appearance to allow for both privacy and ample light. Typically, acrylic provides a lower level of soundproofing than other materials. But if durability and easy cleaning is a major focus, it could be ideal.
If reducing sound is one of your top priorities, look for woven surrounds made with acoustic felt (polyester). This soft material effectively absorbs and dampens sound and may be available in various colors to suit your aesthetic design.
Partition Portability
Permanent partitions are always an option, but they can be very limiting. Instead, consider portable solutions that can adapt to your evolving needs. Portable, soundproof room dividers can be easily relocated, so you can reconfigure your office space without repurchasing new products.
Sliding soundproof room dividers often come equipped with a wheeled base so that changes can be made at a moment's notice.
Partition Design
A partition or portable wall design can be one of the most important factors in your decision-making process. You want a well-constructed solution designed for durability to make the most of your investment. However, the aesthetic of a partition is also important.
Ideally, your selected partitions will be attractive and professional-looking, seamlessly integrating into your overall office design. Taking advantage of design options such as color makes it easy to tailor the look of your partitions. There are also acoustic panels and space dividers that put a contemporary spin on a traditional design, so you can create a modern workspace that appeals to employees and clients alike.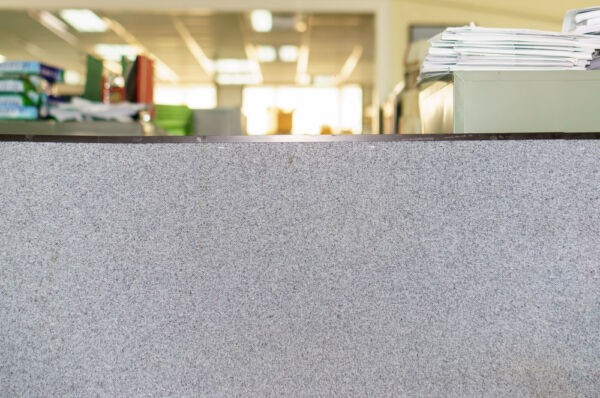 The Best Soundproof Partitions and Demountable Walls for Office Spaces
Now that you have a clear idea of what to look for in soundproofing solutions let's browse some of the top products currently on the market.
The dB series of workstation paneling is a lightweight, sound-absorbing solution that can be configured in nearly limitless ways. Because each panel is equipped with a base rather than standard legs, it can be easily angled to create customized spaces. This flexibility makes the dB partitions especially beneficial in open-concept offices, including those with unique floorplans and limited space.
Another unique characteristic of the dB partitions is the option to select from various materials and styles, including upholstered panels, whiteboard-faced screens, and corkboard-faced screens. Various fabric colors and a diverse range of sizes make this a highly versatile solution.
With a modular design that allows for no-hassle assembly and easy customization, the Bower series of privacy paneling and partitions is practical and stylish. The panels' distinct curves absorb unwanted noise, while the pod-style shape provides added privacy.
Inspired by the nests of Australia's bowerbird, the Bower series makes for an eye-catching addition to the office. You can use the privacy paneling to devise individual desktop workspaces or incorporate them with matching armchairs for a more collaborative area.
The Airbloom acoustic panels are designed for suspended installation, hanging from the ceiling or on walls. Multiple panels can be combined with plastic clips and an aluminum rail, producing a sturdy solution that can be easily changed. Perhaps the most notable feature of these soundproofing panels is the molded design, which resembles an abstract floral pattern made from 100% polyester felt fiber.
The Airbloom panels resemble an art installation more closely than a typical office element, but their functionality is second to none. Additional options in this series of acoustic privacy panels include the Aircone, Airflake, and Airleaf designs.
Explore Office Partitions and Space Dividers from Collaborative Office Solutions
At Collaborative Office Solutions, we provide smart, stylish products to enhance the form and function of your workspace. Our selection of soundproofing partitions and dividers includes a wide range of designs, so you can find options that align with your specific needs. From basic desktop privacy screens to full-scale workstation paneling, we have something to suit every office.
Contact our team today for more information about how to soundproof an office using partitions, dividers, and other products.
Photo Credits: Zastolskiy Victor / waii waii