Commercial Office Furniture Interiors in Houston
Are you a business manager or a new startup looking to furnish your office with Houston office furniture that will encourage productivity and comfort? Because you spend as much as 35% of your time at your workplace, you want to make sure the furniture in your office allows for relaxation, collaboration, and efficiency. Read below for a list of necessary commercial office furniture pieces to create a highly productive and inviting office environment:
#1 Leadership Office Furniture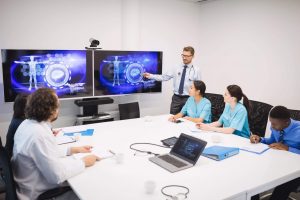 Executives often require furniture to accommodate a private or semi-private office space. The pieces chosen for business leadership should include high-end pieces like custom desks and practical pieces like bookshelves and hutches. Many executives prefer pieces of furniture that are functional and allow for collaboration, such as expanding tables or whiteboards that serve multiple purposes.
#2 Office Reception Area Furniture
Office Reception area furniture is critical to the overall feel and visual appeal of your office space. The reception area is the first thing clients see when they walk into the office, and it is the last thing employees see when they leave at night. Is the area cluttered and messy, or is it sleek and modern? Choose furniture pieces that provide ample seating and plenty of storage. Also, choose a reception desk that is large enough to accommodate business materials but is comfortable for the receptionist.
#3 Lounge Area Office Furniture
Every office needs a relaxing space for employees to enjoy a coffee break or take a quick phone call. Taking regular breaks during the day is proven to enhance employee productivity and is necessary for overall mental health. Create an enticing lounge area by purchasing enough comfortable chairs to accommodate at least five individuals. Televisions and tables are also good additions. Consider asking your employees for their opinions beforehand and purchasing furniture based on their preferences. After all, your employees are the ones who will be using the lounge area, so they need to be comfortable.
#4 Collaborative Office Seating
Collaborative Office seating includes employee chairs, leadership chairs, client seating, and conference room chairs. Focus on purchasing ergonomic chairs that can be easily adjusted for people of different heights body sizes. Choose high-end pieces for executive seating and conference chairs. More expensive chairs offer more features and are made of higher-end materials. Employee chairs should be versatile and comfortable. Motion-style leaning chairs and stools are good options for breakrooms and collaborative spaces.
Ensure all chairs purchased for regular employee use come with a backrest, adjustable headrests, and good stability. Employee comfort is paramount to productivity, and chairs can make or break that comfort level.
#5 Collaborative Space Furniture
The most productive offices encourage employee collaboration and interaction. If your Houston office space features traditional cubicles, collaboration can be difficult. Instead, try designing an employee workspace that is open and features shared desks. The feel of this space can be formal or casual, depending on your business. Provide furniture that gives employees a certain level of privacy to take phone calls and write reports and allows for interaction with other employees. Privacy dividers for large shared desks are a great option.
#6 Smart Technology For Modern Office
Have you used a dry erase or chalkboard recently? If so, you know how messy and non-functional they can be. Instead, equip conference rooms with touchscreen technology that can be used to write notes during meetings. Touchscreens are more functional than dry erase boards because they allow you to save notes and distribute them electronically to employees or clients.
#7 Breakroom Office Furniture
Breakrooms should be functional, comfortable, and easy to clean. Stacking or nesting chairs are great options because they are easy to store and can be kept out of the way when not in use. Other essentials are tables, kitchen equipment, and easy-to-clean chairs. If you are short on space, considering combing the breakroom space and the lounge area.
Collaborative Office Interiors Can Assist
If you need help purchasing corporate office furniture or want commercial interior design services, contact Collaborative Office Furniture today. We offer a variety of commercial office furniture Houston services to help enhance the look and feel of your office space, including professional installation, workplace strategy services, and corporate office furniture financing. Create a high-end, appealing office environment for your employees that promotes collaboration and efficiency. Contact us today to receive a free estimate.

7 Office Furniture Pieces Every Office Needs | Collaborative Office Interiors – Houston