Office Furniture in Houston
Office Furniture in Houston
If you're a business owner in Houston and want to create an image of innovation, approachability, and relevance, modern office furniture is a must-have. Compared to traditional, outdated furniture, modern pieces are a superior solution. They not only help attract talented and bright professionals to join your team but also make younger generations feel more comfortable in the workplace.
Our range of modern Houston office furniture is specifically designed to appeal to younger workers, who prefer contemporary styles. Traditional furniture, on the other hand, is often associated with outdated values and practices. By incorporating modern furniture elements into your office, you can show that your business is forward-thinking, dynamic, and adaptable. It also creates a lasting impression on anyone who enters your building.
Moreover, Collaborative office interiors are the best choice for businesses looking to create a more productive and collaborative work environment. In a collaborative workspace, employees can work together, share ideas, and communicate more efficiently, which ultimately leads to increased productivity and better results. By choosing modern furniture solutions that promote collaboration, you can foster a more dynamic and innovative work culture, and that's why collaborative office interiors are the best choice in Houston. They offer a wide range of office furniture and office furniture installation
On behalf of my organization we hired Collaborative Office Interiors with purchasing cubicles and the experience was amazing. We worked with Dustin and he was incredibly attentive and devoted to giving us a great service. He was very determined to give us great customer service in which he succeeded. We are in love with our new cubicles and everyone compliments how great they look. I look forward to working Collaborative Office Interiors again.
These folks are top notch. The customer service provided by Dustin Lane left a lasting impression on me. They work with every budget, and went out of their way to accommodate my many requests, timelines, etc! They even have a design team that make recommendations for your space free of charge. And they offered to deliver temporary furniture in the event the custom pieces didn't arrive in time. Highly recommend!
Choosing the right office furniture in Houston, TX
What was once a traditional business environment, modern office furniture in Houston was once reserved for design firms. But modern furniture is trending throughout Houston businesses and adding excitement along the way. Today's modern executive office furniture will convey an innovative distinction compared to more traditional ones. We have seen, first hand, how modern office furniture can renovate the Houston office.
Commercial office furniture can be stylish, smart, and functional. But, how does it affect your bottom line? As a younger generation enters the workforce, if their tastes and preferences are not addressed, it has a deep impact on motivation. Increased employee satisfaction decreases turnover and adds a measurable performance boost to your bottom line.
Buy High-End, Quality Office Furniture Lines
Modern office furniture has gotten a bad rap over the years. Many companies thought it was too simple and not practical. Our office furniture, however, balances form and function.
At Collaborative Office Interiors, we make sure your modern executive desk is suitable for actual work and not just something exquisite to admire. The style is what draws all of us to a furniture piece, but it has to perform just as effectively. It is equally as important to have an organized executive office with a fluid space that adapts to your work style and growth.
What Else Does Your Project Need?
What Else Does Your Project Need?
Benefits of Buying Modern Commercial Furniture From Us
Modern commercial furniture offers a lot of benefits besides appealing to younger generations. When you buy from us, you can also receive the following advantages:
Streamlined Appearance: Most modern office furniture is very sleek and looks exceptionally streamlined. There are no unnecessary stylistic elements that can make an office space look cluttered or overwhelming. For this reason, it's a great solution if you prefer the clean look of neat lines rather than the messy look of bulky furniture with exaggerated stylistic elements.
Space-Saving Appeal: If you're looking for office furniture in Houston that can fit nicely into smaller spaces, you can't go wrong with modern furniture. Its very design lends itself well to small or oddly-shaped spaces. We also offer demountable walls and other solutions that can be disassembled and rearranged. This feature makes it easy for you to make optimal use of the available space. For growing businesses, being able to rearrange furniture as needed is essential.
Professional Installation: We provide professional installation for all of our office furniture. That means you can select what you want, then sit back and relax while making sure it's installed carefully without any damage to the furniture or your building. Why do the heavy lifting yourself when someone else will gladly do it for you?
Office Space Planning: In addition to providing you with exceptional office furniture for your Houston business, as well as making sure it's installed professionally, we can also help you with your office space planning needs. We have a great eye for detail and know how to help your space look open, inviting, and attractive. Just let us know your objectives, and we'll help you plan an office space that achieves them.
Furniture Leasing or Renting: If you want to transform the interior of your office, but you don't have the budget to replace all of your current furniture with new, modern selections, don't worry! We have a lease or rent option that can help you get the office of your dreams without breaking the bank to achieve it. Our leasing and renting options are very flexible, generous, and come with great terms. We want to help you obtain a gorgeous interior space for an affordable price. Rent everything from bench desking to café and collaborative furniture from us.
These are just a few of the top benefits you'll receive when you decide to purchase commercial office furniture through us. We can also help you come up with workplace strategy solutions that can maximize your efficiency and profits. Our workplace strategy services can help you implement communication plans, brand approaches and more.
Find the Perfect Houston Office Furniture
We have an impressive catalog that features our many different options of office furniture in Houston. We encourage you to browse through our inventory until you find the solutions that make the most sense for your office space. If you need help deciding what furniture sets will best complement your office space and other existing design elements, just let us know.
We employ expert interior designers who love analyzing existing spaces. We can help improve your office, both aesthetically and functionally. Whether you're just looking for a few new office chairs or you are replacing your entire cubicle setup with a new, modernized cubicle system, we have just what you need.
Claim Your Free Estimate
Revamping your office space doesn't have to be stressful. Let us handle all the complicated aspects of it for you. We'll provide you with commercial office furniture recommendations that will accurately reflect your company's desired image while providing both style and functionality. To claim your estimate or learn more about our services, contact us through our online form today. One of our experienced furniture space planning experts will get in touch with you right away.
Let's Get Started…

Request a Consultation
Let us help you create the perfect office for your team!
At COI, we respect our clients' time – that means we won't beat around the bush just to provide basic pricing information. We have created a simple yet powerful calculator that not only provides you what you need to talk to your team about potential expenses for an office renovation or a move in. Find out what office furniture fits your needs with our tool:
Gives you an easy ballpark number that can kickstart a conversation

Requires absolutely NO commitment

Only takes seconds but can save you tons of time
Office Furniture
Houston
FAQ's
Do You Have a Showroom?
John Ofield
2021-02-10T22:50:03-05:00
Yes, 8 Greenway Plaza, Suite 200, Houston, TX 77046. We deliver fast and reliable end-to-end solutions whether it's for 100 or 1,000.
How Do I Know I'm Choosing The Right Furniture?
John Ofield
2021-02-10T22:50:02-05:00
COI understands that designing an office space can be an overwhelming task. But you can rest assured, our space planning experts focus on the work space, layout, flow and your overall goals, leaving you time to focus on your business. We evaluate your office space to determine the optimal office furniture products.
Do You Offer Financing?
John Ofield
2021-02-10T22:50:02-05:00
We've got you covered with financing plans that will cover up to $1.5 million with easy payment terms ranging from 36 to 84 months.
Find out fast if you qualify with simple documentation and a decision within one business day.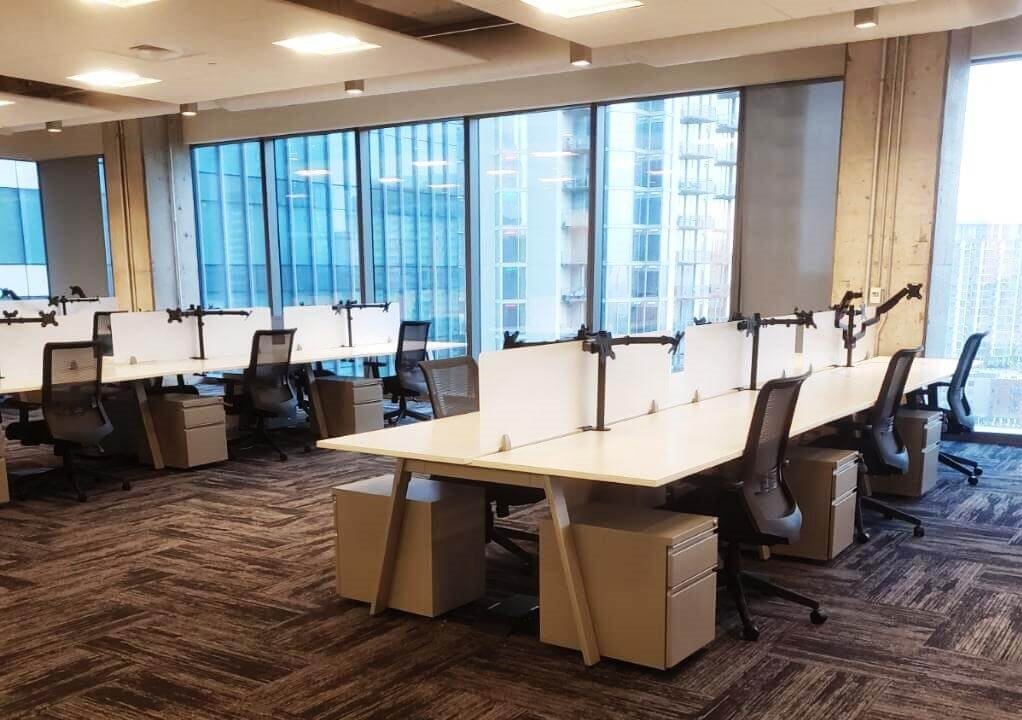 Collaborative Office Interiors Showroom
8 E Greenway Plaza #200 Houston, TX 77046
Phone: (713) 588-9086