Demountable Walls
Demountable walls offer a flexible and sustainable solution for modern offices. They can be easily reconfigured or relocated, making them an adaptable option for businesses that may need to make changes to their workspace. Demountable walls can create private workspaces within an open plan office, promoting focused work while still encouraging communication and teamwork. Collaborative Office Interiors features demountable walls to offer a wide range of benefits to businesses that can help them to be more efficient, productive, and sustainable in the long term.
In addition to their flexibility and functionality, demountable walls can also be customized to fit the unique style and aesthetic of a business. They are often made from sustainable materials and provide acoustic and visual privacy, creating a more comfortable and environmentally friendly work environment. Demountable walls can offer a range of benefits that can help businesses to be more productive, sustainable, and efficient in the long term.
Architectural Walls
In recent years, the cost of new office construction has continued to rise. This trend, coupled with the movement toward an ever-more mobile and transient workforce has necessitated much change in office design. As companies grow, it often becomes necessary to rethink the design of the office itself. If your organization is undergoing this type of change, choosing demountable architectural walls could be the solution you've been looking for.
What are Architectural Walls?
Architectural walls are reusable, demountable walls that allow you to configure and reconfigure your office interiors according to your needs. They are functional, design-friendly, and they come in many styles that support the way you work.
Some of the benefits of architectural walls include:
Noise-reducing, giving your employees the peace and quiet they need to get things done

Transparent architectural walls allow natural light to permeate your space

Architectural walls support a healthier work environment

Easy to install and remove

Allows you to reconfigure your office space as needed, perfect for today's changing workforce requirements
Reduces costs: architectural walls are less expensive than drywall over the long-term as they can be reused indefinitely

Green, sustainable design

Tax credits are available to companies who make sustainable choices

Architectural walls give you LEED credits towards sustainable building design certification

Many styles and options to choose from
Check out all of our products by either searching for something specific or using the menu to find what you need. We have hundreds of office interiors to choose from, like River Collaborative Seating, Princeton Freestanding Modular Laminate Desk, and Boardroom Tables.
Tax Advantages
Demountable walls are considered tangible personal property so they depreciate seven times more than traditional construction in the first year. By the third year the depreciation reaches the half way mark and by the seventh year as much as 95% is recovered.
While conventional construction has less upfront material and labor costs, it has more down-time as you watch the interest accrue. Meanwhile your build-out of fixed construction depreciates a mere 2.5% per year and in the seventh year…you are still at 18% vs. 95% for a demountable or movable wall system.
Our demountable wall provider, Gravity Lock is a local Houston company that has developed movable wall systems with serious advantages over drywall.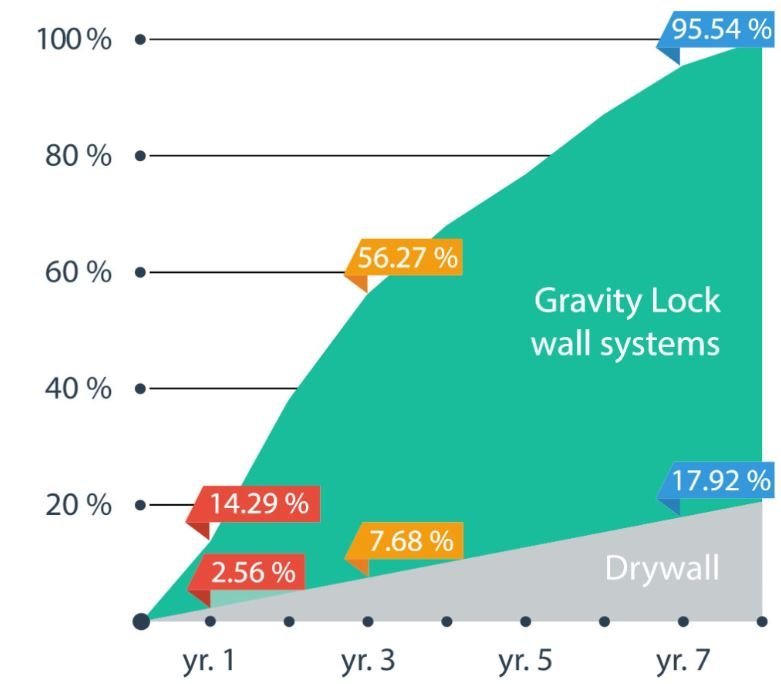 LEED Contributions
LEED Credit MR 2.1/2.2 – Construction Waste Management

LEED Credit MR 4.1/4.2 – Recycled Content

LEED Credit MR 5.1 – Manufactured Regionally

LEED Credit EQ 4.1/4.2 – Low Emitting Materials

LEED Credit EQ 8.1/8.2 – Daylights & Views
Demountable Wall FAQ's
What Are Demountable Walls?
John Ofield
2021-02-10T22:50:04-05:00
Demountable walls are walls that can be reconfigured or relocated without the waste associated with fixed construction. In addition, other benefits include LEED Credits, shorter lead-times, friendlier construction schedules, flexibility, and tax incentives.
Related Images:
Let's Get Started…

<h3 style="text-align: center;">Request a Consultation</h3>
<p style="text-align: left;">Let us help you create the perfect office for your team!</p>
Related Images: