Fulfill All Your Office Furniture Needs in Richmond, TX
Fulfill All Your Office Furniture Needs in Richmond, TX
If you're in need of office furniture Houston in the Richmond, TX area, look no further than Collaborative Office Interiors. We are a local provider of not only office furniture but all the services you'll need to get your office set up and ready to go. Our mission is to make it easy for business leaders to develop their ideal workspace within a budget.
Over the years, we've helped numerous businesses of all sizes set up their workspaces in the Richmond, TX area, and now we want to help you too. The companies in this area have a big impact on our local economy, so it's even more important to us that you have all the office furniture you need to succeed. So, whether you're in the Richmond, Houston, or Bellaire area, we're here to help. Some of the services we provide include:
Find Out What Our Richmond Clients Have to Say About Our Office Furniture
Find Out What Our Richmond Clients Have to Say About Our Office Furniture
"Fantastic service! Taylor Ward was super helpful and patient with me as I had a bunch of questions. He helped me find exactly what I was looking for at the right price. I have already recommended Collaborative offices to my friends and colleagues."
"On behalf of my organization, we hired Collaborative Office Interiors with purchasing cubicles, and the experience was amazing. We worked with Dustin, and he was incredibly attentive and devoted to giving us great service. He was very determined to give us great customer service in which he succeeded. We are in love with our new cubicles, and everyone compliments how great they look. I look forward to working Collaborative Office Interiors again."
Services That We Offer in Richmond, TX
Collaborative Office Interiors is more than just a place to buy office furniture in Richmond, TX. We have a wide range of services that make setting up any kind of office easy and affordable. Some of our best services include:
Commercial Interior Design
Sometimes you need to set up office space, but you're not exactly sure how to go about it. After all, you've been busy learning how to run a company, not necessarily interior design. To help you out, we offer commercial interior design services for all the businesses in this area. We can help you pick out furniture that creates the type of atmosphere you're looking for while remaining functional. In the end, you'll not only end up with furniture that fits your space and makes it possible for your employees to work comfortably but furniture that creates your desired vibe.
Lease or Rent Office Furniture
In some cases, you may only need furniture for a shorter time. In this case, you don't want to spend money buying furniture that you'll need to get rid of in the near future. A better alternative is to lease or rent your furniture from Collaborative Office Interiors. This way, you hold onto the furniture for as long as you like, then return it when you're done. It's a more affordable solution for businesses that only need certain furniture items for a short period of time.
Office Furniture Financing
Many businesses don't have the upfront funds available to outright purchase all the furniture they need. If you're in a similar situation, don't worry. Through Collaborative Office Interiors, you can easily finance your Richmond office furniture purchase and pay it off over time. This is ideal for businesses of every size but particularly for new companies who may still be struggling to get started. Get the furniture you need now and pay it off with reasonable monthly payments.
Professional Furniture Installation
Once you find the furniture you like through Collaborative Office Interiors, we can handle the installation process for you. We'll bring all the new furniture to your location and set it up just the way you want it. Moving office furniture is a difficult and time-consuming task, meaning it's one you likely won't want to do on your own. Let our team handle it so that you can spend more of time your time running your business.
What Else Does Your Project Need?
What Else Does Your Project Need?
Let's Get Started…

Request a Consultation
Let us help you create the perfect office for your team!
At COI, we respect our clients' time – that means we won't beat around the bush just to provide basic pricing information. We have created a simple yet powerful calculator that not only provides you what you need to talk to your team about potential expenses for an office renovation or a move in. Find out what office furniture fits your needs with our tool:
Gives you an easy ballpark number that can kickstart a conversation

Requires absolutely NO commitment

Only takes seconds but can save you tons of time
FAQ About Office Furniture Services in Richmond, TX
Below are answers to some of the frequently asked questions we receive about our office furniture services in Richmond, Tx:
Do you have office furniture that fits into smaller spaces?
John Ofield
2021-11-05T17:53:23-05:00
Of course! We have furniture that fit's in all different office shapes and sizes. Richmond, TX, has many great office buildings in the area, making it easy for new businesses to get started in a smaller space. But just because you're in a smaller space doesn't mean you can't have great furniture. Take a look through our available selection, and you'll see plenty of furniture pieces that can fit in smaller office spaces.
Can you help me plan out my office space?
John Ofield
2021-11-05T17:53:47-05:00
We sure can. Office space planning is one of our more popular services. We'll work with you to plan out your entire office space, helping you create the type of atmosphere you're looking for all within your budget. Just tell us your ideas, and we'll help you turn them into a reality.
Can I get an estimate before buying anything?
John Ofield
2021-11-05T17:54:11-05:00
We provide free estimates for all of our services. Just contact us today, tell us what you're looking for, and we can begin to discuss prices with you. Our goal is to make working with us as transparent as possible, so you'll always know what you're spending.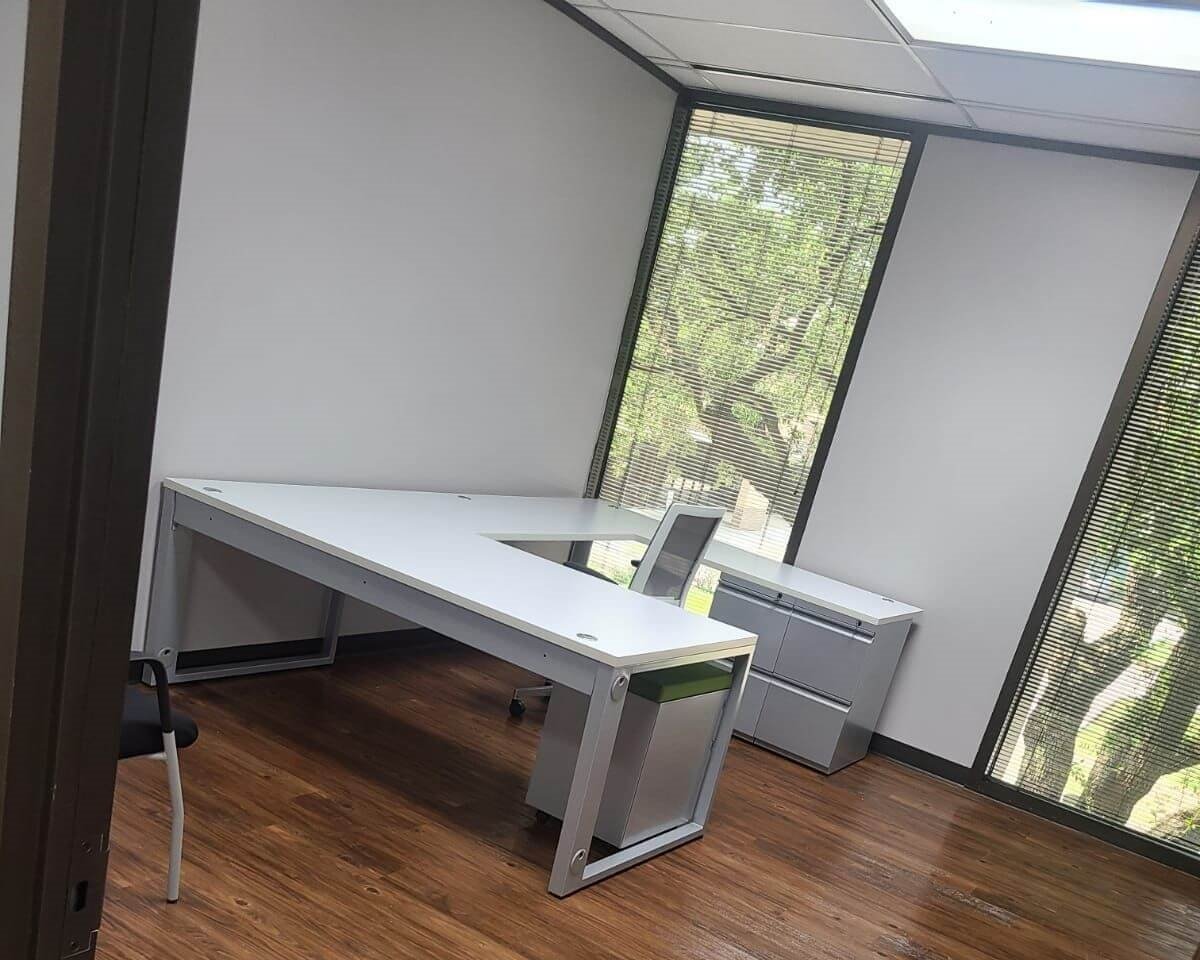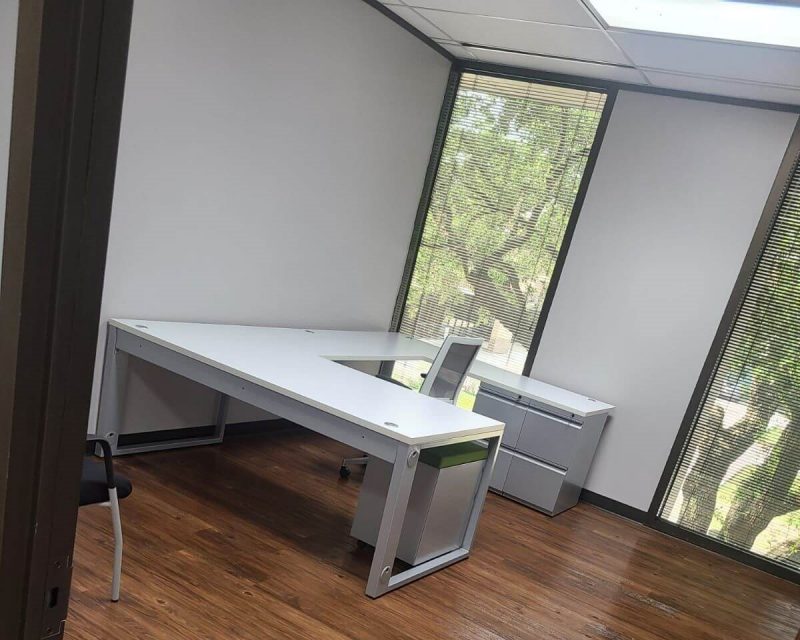 Collaborative Office Interiors Showroom
8 E Greenway Plaza #200 Houston, TX 77046
Phone: (713) 588-9086