Demountable Glass Walls
Not surprisingly, glass walls have become increasingly popular as a solution in open offices to mitigate the risks of COVID-19 spread. However, glass walls are a good investment at any time. They provide a versatile way to reconfigure your space to suit your changing needs. Plus, you can take them with you if you move.
What Are Demountable Glass Walls For Offices?
Demountable Glass walls are a type of demountable wall that gives you flexibility in your office layout. Easily create private meeting rooms or offices as needed, without the permanence and mess of drywall. The sleek framed glass has a modern and minimal aesthetic, perfect for any office. Choose from options like clear or frosted glass, or a combination of glass and solid surface to create a custom look. They install over hard surface or carpeted floors.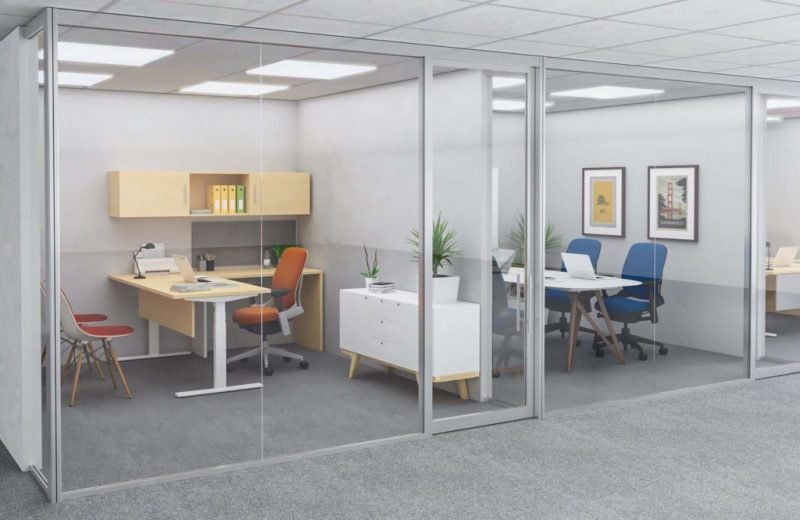 What Are The Benefits of Demountable Glass walls?
Investing in glass walls for offices offers huge benefits, not only in the short term but also over the life of your business. Upfront, they are quicker to install than drywall with little downtime and no mess. As your needs change, you can reuse them over and over again. Moving offices? Bring them with you. They are just as easy to remove.
Unlike construction on the building itself, demountable glass walls are considered tangible personal property. In just a few years, around 95% of your investment can be recovered as depreciation. In addition, demountable glass walls are eligible for certain LEED credits. They are good for the office, the environment, and your budget.
Aside from straightforward cost savings, glass walls offer productivity benefits like noise reduction and privacy. Office transparent walls let in natural light which improves employee health and wellness. You won't have to sacrifice your light and airy open office environment for the sake of privacy. Plus, even more important now, they provide much-needed barriers in otherwise open offices to curb germ spread. The surface is easy to clean, especially with an electrostatic spray service.
How You Can Use Glass Walls To Reconfigure Your Office
First, utilize the services of an office design expert to help you evaluate your needs. Our project managers are committed to helping you maximize your office space. We work with you to identify gaps in your layout and suggest solutions within your budget.
Then, choose your walls. A variety of finishes are available including frosted and clear glass, writable surfaces, fabric wrapped, laminate, and wood look. The modern panel design allows you to mix and match finishes. New, in-line sliding glass doors save valuable square footage and blend seamlessly into the entire system. We can help you design your panels based on your current and potential needs so you get the most flexibility possible.
Collaborative Office is here to help you choose the style of glass wall that will serve you best in your office environment. Our design experts will sit down with you to discuss your office needs and how glass walls can make your space more versatile. You can contact us with any questions, or to schedule a free consultation.
Related Images: