Modern Executive Home Office Furniture You Need
Many people started working remotely last year and will continue to do so for the foreseeable future. The abrupt change led to quite a few temporary home office setups – in corners of other rooms, at the dining table, or even just on the couch. After 18 months, it might be time to consider investing in a home office. Executive home office furniture allows you to duplicate the work environment at home, leading better focus and productivity. When it comes to choosing furniture for your home office, what types of things should you consider?
Executive Home Office Furniture Boosts Productivity
One of the main challenges of remote working lies in the distraction of being at home. Some people may be trying to homeschool kids, or have another person in the home also working remotely. Plus, you easily take notice of dishes that need to be done, laundry, or other chores. For these reasons, many people prefer to work in an office to help separate the living and working parts of their lives. We think that remote work is here to stay – at least part-time. So, what can you do to make your home office feel like the workplace? Devote some time and energy (and yes, budget) to creating a productive home office. Executive home office furniture is specifically designed to bring features like ergonomic seating, storage, and functional desk space from the workplace to your home.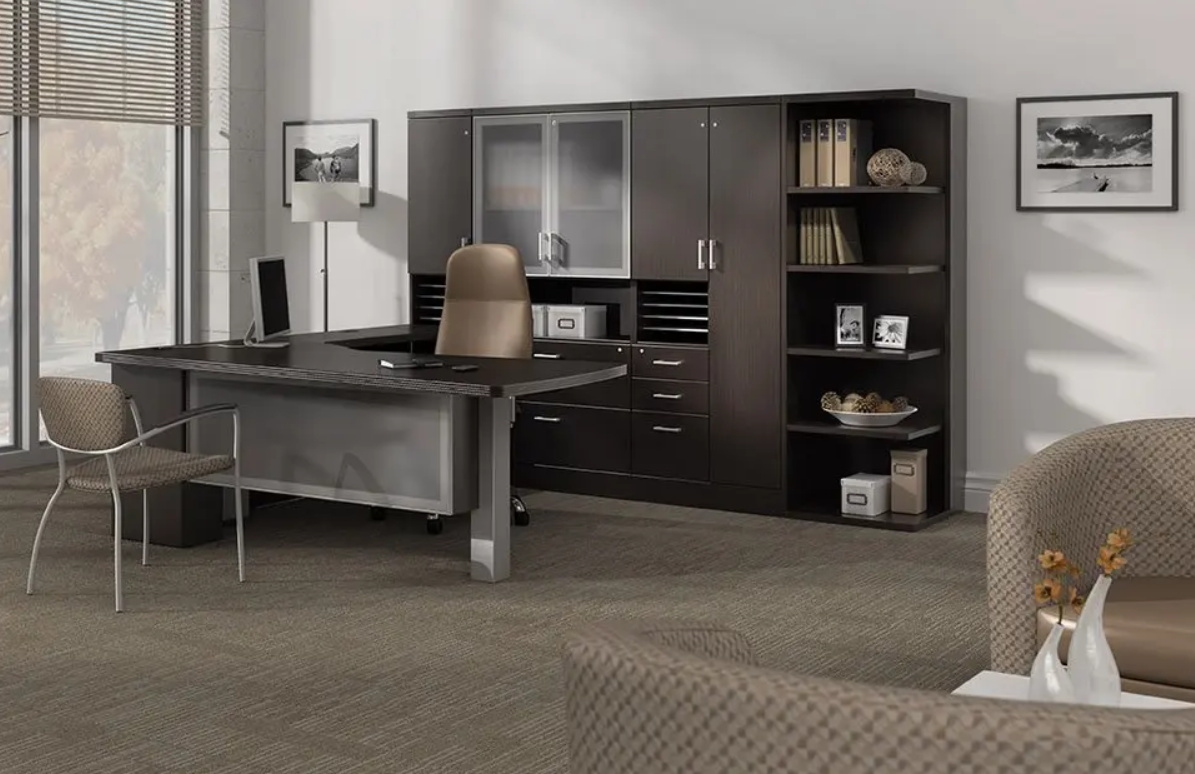 If you're just starting to plan your home office re-do, we recommend starting with good, ergonomic seating. This alone will keep you more comfortable during the day and ultimately allow you to be more productive. For jobs that require heavy computer use, investing in sit-to-stand desks can break up long hours at your screen. In addition, executive furniture sets come with a variety of options for storage like mix and match pieces to give you a space that works for your unique needs.
Modern Or Traditional
When you think of home office furniture, you might recall images of clunky desks or too dark finishes. Fortunately, commercial furniture has come a long way. While modern, clean lines are on-trend right now, manufacturers continue to breathe life into traditional designs as well. Whatever your home style is, your office should blend in seamlessly. From industrial, metallic finishes to warm, rich wood tones, there is something for everyone. No longer should you sacrifice style for function.
Creating a space to work at home shouldn't be a rushed, piecemeal project. The function of your home office directly impacts your ability to work productively. Therefore, the design must be taken seriously. At Collaborative, we can assist with home office design just like we do in commercial spaces. Our expert team will sit down with you to discuss your needs and the aesthetic you want to acheive. We offer home office solutions for both large and small spaces. From our dozens of partners, we provide a variety of options to suit nearly any budget. Book a consultation today with one of our designers to get started.