Integrated Office Design Services
Put simply, integrated office design services consists of consolidating services and processes under a single contract and management team in order to bring your project to life. While this sounds a bit dry and plain on paper, anyone concerned with a company's bottom line will appreciate the results in ground-level improvements it provides.
In the office furniture industry, integrated services can streamline the entire process from space planning and workplace strategy to financing and final installation.
With this basic answer out of the way, you're likely wondering what this would look like in practice.
Let's start by looking at a list of the services we offer then we'll discuss how each integrates with the next into one cohesive and seamless project:
Workplace Strategy

Space Planning

Interior Design

Renting, Leasing, or Financing

Installation
Workplace Strategy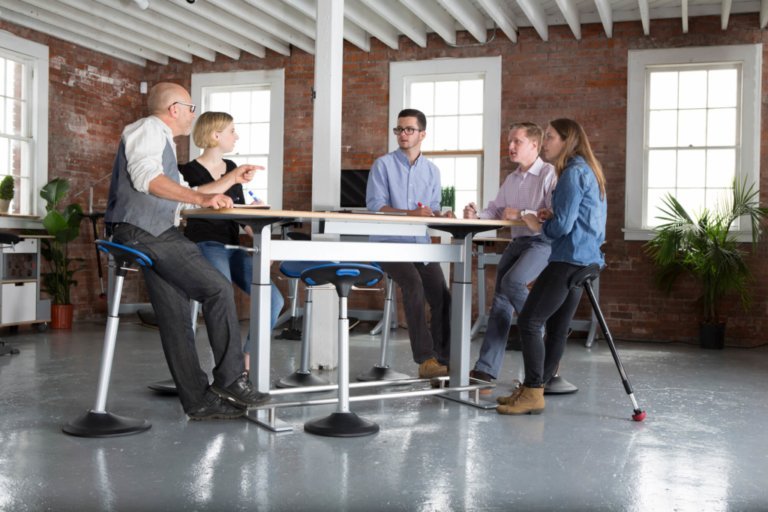 When it is time to expand, move, or reorganize your office, it is the perfect opportunity to reconsider the dynamic alignment of your organization's work patterns and environment.
Let's make this simple and narrow it down to three essential questions.
Think about your workplace:
What does it look like?

How is it used?

What tools are available for workers to produce the best product in the most efficient manner?
A robust workplace strategy will closely align with your overall business strategy. It will support your goals and your corporate structure by integrating the technology, policies, and operating procedures of your company into your physical workspace.
Space Planning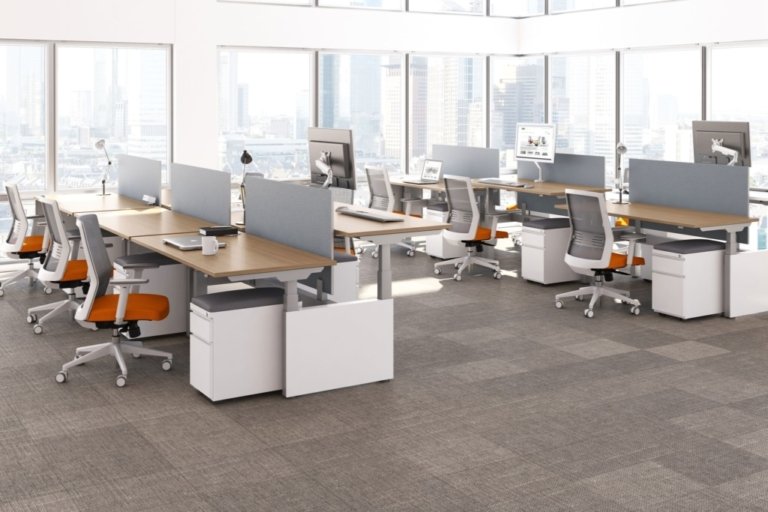 Once your workplace strategy is in place, how will it best fit into your new space? Optimizing your workspace is a bit like solving a puzzle.
Deloitte put out a great article talking about the advantages of workplace strategy and how it relates to space design. Here are a few of the benefits they mention:
Greater flexibility in the way workspaces are used

Collaboration on-demand using mobile technology regardless of physical location

Workspace options for employees to choose the kind of space best suited for their productivity and comfort

Opportunities for virtual or face-to-face communication encouraging brainstorming and knowledge sharing

Lower corporate real estate costs due to space consolidation
Space planning with your workplace strategy in mind is essential for both performance and employee satisfaction. Work patterns continue to evolve favoring transparency and flexibility which impacts physical work settings. Expert workplace strategists and space planners are educated in the current trends and the pros and cons of each one. Since there is no one-size-fits-all, they will work together with interior designers to design a workplace tailored to your unique needs and goals.
Interior Design
The workspace itself is a business tool. The office environment should reflect and reinforce the company's core values as well as it's culture and brand.
Here are some of the more subtle ways the design of an office can affect a company:
– Office design can encourage employee engagement
Employees who are engaged can boost the bottom line by up to twenty percent according to the Towers Perrin talent report. Companies with disengaged workers can experience thirty to fifty percent higher turnover.
– Flexible work environments boost engagement and satisfaction
Collaboration is essential to many businesses but so is peace and quiet for many employees. These are often at opposite ends of a spectrum with a range of work modes in between. An office design that can cater to the various work modes can increase employee satisfaction by up to forty percent according to the PubMed publication Workplace flexibility: from research to action.
– Workspace lighting matters
Better office lighting has been linked to a fifteen percent decrease in absenteeism says Judith H. Heerwagen, Ph.D. In her paper, she describes better lighting as a mix of both natural and artificial lighting. Workplace design which includes ample daylight from windows and opportunities for contact with nature has a positive and measurable impact on employee wellbeing.
– Office acoustics can be vital
Acoustics can also contribute to the performance and wellbeing of the workplace. As mentioned above, many employees will seek out quiet places for certain types of work. It's also essential for workers to be able to have spontaneous or planned interactions without disturbing others.
Workplace layout, strategic wall placement, ceilings, flooring, and furniture materials all contribute to productivity via acoustics.
Communication is key
With a solid workplace strategy, communication between the strategist, space planner and interior designer is a powerful tool. Imagine if their services were integrated and they worked as a team.
Now imagine how easy the rest of the process will be since the interior designer works directly with the furniture supplier who offers rental, lease, and financing options then installs it according to the designer's specifications.
Financing
The budget will have already been discussed with the interior designer, and since these services are integrated, the designer will have handled the funding along the way. With flexible options like renting and leasing or financing every part of the purchase, (freight, delivery, installation, and tax) the process will be seamless.
Installation
Being the last part of the process, a successful installation is just as important as the planning and design. The installation team will communicate and coordinate directly with the planner and designer to ensure that everything comes together as planned.
The Big Picture
Expanding, moving, or reorganizing your office is an enormous task and having the option to place that task into the hands of a single cohesive team is priceless. You could undoubtedly organize the entire process yourself. You could ensure the workplace strategist is communicating effectively with the space planning and design teams. Secure your own financing and coordinate the scheduling, so the designer is there to direct the installers. Or you can take advantage of integrated services freeing you to run your business.
The core of integrated services is streamlined communications, seamless processes and ultimately cost effectiveness. Having a single team manage the entire project dramatically reduces the chance of conflicts and hiccups. Integrated services results in fewer contracts, teams, and resources to manage while giving you a bird's-eye view of your project. Compared to managing each independent aspect, you will have increased focus on the bigger picture, quicker response times and less downtime from business operations.
Related Images: