2020 Trends in Collaborative Office Design
It's been almost a century since Frank Lloyd Wright created the first open-concept, collaborative office design in 1939 to encourage teamwork. The design included a few white columns, oval desks, and filing cabinets. The efficacy of the open-concept office has been a polarizing topic within the design community ever since.
Since productivity is a direct and measurable result of an efficient workspace, the discussion surrounding office space is relevant to office workers everywhere. Research indicates that poor office design can have unintended ramifications; the high concentration of people and lack of privacy can be taxing on the ability to focus and a strain on teamwork. Open-concept design, for that reason alone, has been condemned often as a counterproductive design model. Current studies reveal that workers within open-concept offices experience 73% less time in face-to-face exchanges; however, email and messaging use increased more than 67%.
As 2020 approaches, designers are discovering that an open-concept design can, in fact, be an effective model, if implemented correctly. This will be the driving force for office design trends in 2020. Here is what we can look forward to:
Dynamic Flexibility in Collaborative Office Design
A few years back, the trend of dynamic spaces started to emerge, introducing employees to the concept of multi-functional workspaces. These collaborative office designs included indoor-outdoor access by way of garage doors, step-style seating, television and video equipment, and movable green dividers to name a few. Primarily, these spaces intend to meet the applications and needs of our increasingly multi-disciplined business world.
Since that time, multi-use spaces have become the norm, but near to this trend's next level: Dynamic Flexibility. It integrates an entirely new generation of lightweight, moveable, ergonomic, and multi-functional elements that will fit any space and purpose. The days when bulky furniture and technology limitations dictated what could be achieved in a space are gone. The idea of dynamic flexibility collaborative office design focuses on the best possible use of valuable real estate. Collaborative office design allows for complete conversions of environments from production area to podcast studio, to meeting room, to a quiet, semi-private space with minimal effort and time. From lightweight, mobile furniture, and movable walls to technology and adjustable lighting, these spaces allow workers to transform entire rooms in an instant.
This trend is on the fast track to becoming the new normal as office environments continue to swing toward more collaborative, human-centric, and active spaces led by innovation.
It's now more essential than ever to have a collaborative office design and dynamic workplace that can adjust to your real-time needs. As the pace of doing business accelerates, the value of a dynamic, multi-functional workspace will only become more necessary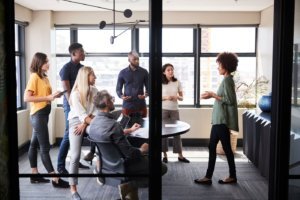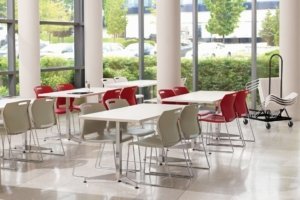 Collaborative Office Design Builds Community in a Remote World
There is no question that we are living in an increasingly digital world. The business world is no exception.
One recent study observed that seventy percent of professionals are now working remotely at least one day out of the week, and fifty-three percent are working remotely for at least half of the workweek. This means businesses need to reimagine and redesign the office space to meet their employee's evolving needs and expectations in a progressively more remote world.
To adapt to these changes, companies are working with designers to craft more comfortable and inviting spaces that foster a sense of comfortability, community, and shared values. This trend is not just a reactionary attempt to keep employees satisfied with the
ir work environment. It's an ongoing movement that has finally reached its natural peak based on employee lifestyle needs and preferences. New office environments now include features generally found in hospitality venues like restaurants, bars and beer fridges, comfortable furniture, fireplaces and game rooms, fitness areas complete with showers and spas, and rock walls.
Now, why are companies going to such extremes to increase employee satisfaction? Because employees going to the office boosts morale, develops relationships, and improves the optics of the company for prospective talent. Integrating these upgrades will benefit the business in ways that flexible working and telecommuting can't. This could mean that office spaces are only going to get trendier and livelier as they go all-in on design, inspiring employees to go into the office.
Modern Modular Collaborative Office Design
Since the open-concept collaborative office design isn't going anywhere anytime soon. Businesses are exploring ways to provide personalized, private spaces in which employees can focus on their important tasks. Moreover, functional furniture is a vital element in keeping employees active, creative, and extremely productive. That means new standing desks, studio drafting tables, insulated phone booths, and benching workstations are being reimagined and developed every day to help employees maximize their time in the office.
This Modern Modular trend is an expansion of the Dynamic Spaces trend mentioned earlier and focuses on the remarkable innovations that are emerging within offices, allowing companies to work smarter and more effectively, and create an environmentally conscious office space for their employees. Beyond dynamic desks, modular offices, and lounge areas, there's also more simple office equipment like computer stands, a diversity of ergonomic chairs, balance boards for standing desks, and personal lockers for a sense of belonging in such a flexible space.
Domesticated Workspaces
Fully furnished kitchens, woven baskets, flowerpots, throw pillows, and area rugs — no, you're not working from home, this is the office's accent collaborative office design. To craft a more relaxed, homestyle working environment, designers are turning to all of that which makes home feel like home. The benefits of this design strategy are twofold for office workers. The features create a more relaxed and welcoming environment for workers who frequent the office. The space is subsequently more satisfying overall and encourages working later than offices without household amenities. Workspace amenities like these entice remote workers back to the office by creating a workspace in which employees engage and are enthusiastic about, strengthening their team dynamics and morale.
This Domesticated Workspace trend derives from commercial spaces growing interest in hospitality environments, like hotels that serve business travelers. The fusion of these designs has the potential to
transform the way office environments are perceived overall. 2020 is a brand-new decade, and things have only just begun.