Workstation Cubicles in the Era of Covid
With the COVID-19 pandemic having triggered a rethink of how most workplaces work, many employers have had to redesign their work environments. Even if you are still not ready to open your enterprise premises or are progressively reinstating your staff, now is the ideal time to review your office workstations.
Since there are only a few employees around, installing new cubicle arrangements and office equipment is easier without interfering with your staff's productivity. Thoughtfully constructed cubicles are a great option if you want to encourage your staff to improve their work habits. This includes, among others, cubicles that adhere to social distancing guidelines and improve the confidence that your employees have about their health whenever they are at work.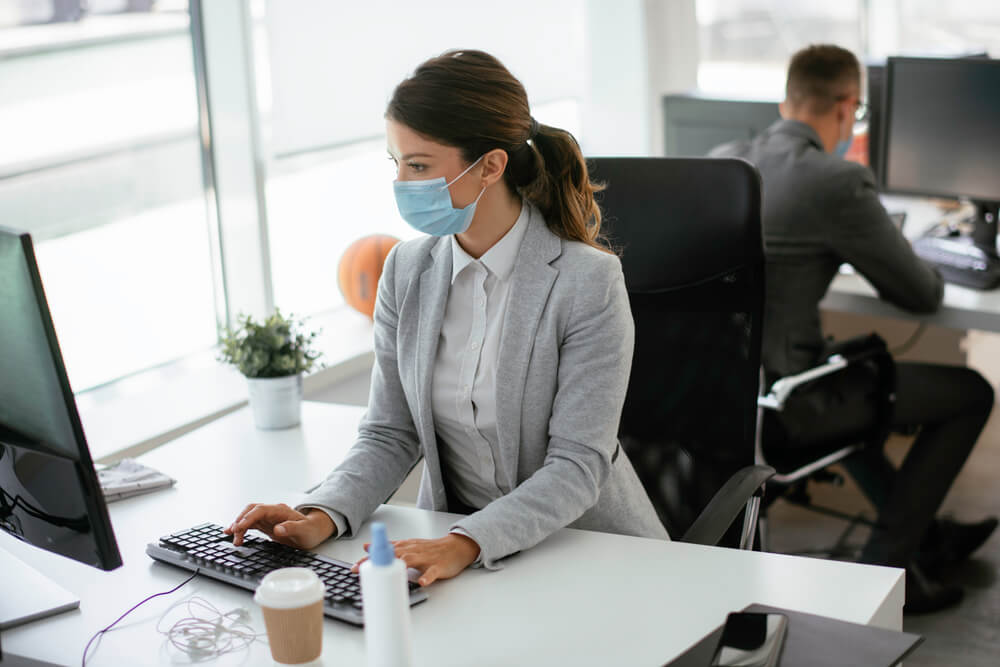 The workplace after COVID-19: The new normal
Whether there are challenges or not, employers are responsible for providing their workers with a secure and supportive workplace. The comfort and security that employees are accustomed to are essential when they resume work post-COVID-19.
Many employees enjoyed the good life and time away from their management and colleagues while they operated remotely. Meetings were only infrequent video chats. But, as companies started making plans to resume in-person engagement, they had to also come up with ways of accommodating their workers' growing demands to preserve the constrained workplace.
Suppose you are thinking about preparing your workplace for the new normal following COVID-19. In that case, you should know that there are several additional safety precautions you should enforce besides your current workplace security policies. These steps will stop the virus from spreading among your employees, thereby protecting their health.
As there are loads of people entering and departing during the day, and most of them must pass through shared entrance points, including lobbies, security checks, as well as lifts, commercial properties are perfect venues for viruses like the kind responsible for COVID-19 to proliferate. Besides, protocols and attitudes toward the workplace may continue to strengthen as people return to work following variations in coronavirus vaccination rates, case counts, and virus mutations. These extra safety controls make the workplace safer for workers as soon as they arrive and enable your return-to-work blueprint to be future-proof.
The modern cubicle
The standard gray box renown for generations has become synonymous with today's office cubicles. Formerly, to make the modular panels homely, most employees used to attach images of their spouse, children, and the family dog. However, the modern cubicle has developed into a place where employees can inhabit with better performance and overall motivation.
It has developed into a private workstation with a contemporary aesthetic. Instead of having massive panels that only fulfill one role, it features sleek edges that can readily become a central focus. This gives the employees more room and includes them in the workplace instead of isolating them. The full-sized desks and frosted glass walls in these cubicles are just two of the modern features.
Custom cubicles
These modern cubicles enable employees to interact and also feature built-in modern workstations. Some even have bright highlights to liven up the monotonous workstations. You can customize this modern cubicle to precisely meet your needs or the needs of your employees. They tend to have a good environmental impact.
Why does the cubicle work?
The cubicle works for multiple reasons. Motivation and efficiency are two key challenges that the cubicle tackles.
Although the cubicle affords solitude when required, it also gives the impression of an open-plan office. It encourages colleagues to communicate with one another by eliminating the physical boundaries of doors and walls, which fosters cohesiveness and confidence within the workplace. These more regular and casual exchanges promote teamwork by ensuring the continual dissemination of information.
Besides, a cluttered workspace contributes to a cluttered mentality, which makes workers feel unduly stressed out and guilty. Working at a cubicle desk compels one to tidy up before leaving. In the end, this helps clear employee thoughts and leave the workstation decent for when they return.
COVID-19 protocols and enhanced safety with office cubicles
Of all the lessons learned during the COVID-19 era, separation is gravely detrimental to social connections. However, it is helpful to accommodate those who desire to reduce their level of exposure to Covid-19. You can find the finest of both realms in the modern cubicle, which allows for interaction through glass panels to promote much-needed social ties.
For COVID-19, Cornell University released a health and safety manual stating that barriers play a crucial role in limiting the transmission of space modifications. Therefore, a partition or barrier, like a workplace cubicle barrier, is helpful when working or engaging directly with people or in environments with high congestion. Employees wary of the spread of COVID-19 certainly appreciate this enhancement as they take extra precautions to safeguard others and themselves.
A Harvard Business School study likewise stresses the value of maintaining a safe distance from others, particularly when you are in confined spaces. (The cubicle's ability to create a partition contributes to the office's constrained space.) An office cubicle complies with all the requirements for social distance constraints. Modern cubicles also include roomy dividers that are easy to clean and sanitize and do not hinder employee communications.
Find the Best Modern Office Furniture in Houston
Any business or organization critically depends on the productivity of its employees and, therefore, ensuring their health and safety is most crucial. Although updating your workplace's guidelines to accommodate COVID-19 may seem difficult, it is crucial to proceed with extreme caution once your company fully reopens its doors. Implement COVID-19 workplace safety measures to make sure that your premises and personnel are ready for a post-COVID work setting.
Collaborative Office Interiors is a Houston-based dealership that supports organizations in accomplishing great things while continuously enhancing how they operate. Our interior designers, workspace experts, and installation staff are adept at making a statement and eager to enhance your particular office style. Everything we do revolves around you, your company, your team, and your clients. To discuss your Houston office furniture needs with one of our knowledgeable workspace specialists, contact us now!
Photo Credit: Just Life