The Secret To Finding Office Furniture During A Supply Chain Disruption
By now, you have noticed the supply chain disruptions that affect more than just toilet paper. Perhaps your favorite bread brand or pet food brand has disappeared. Or, you couldn't find that coffeemaker you desperately want. Don't even get me started on the hunt for a PS5 or new automobile.
There have been shortages throughout the supply chain that can also affect how you run your business. "As more and more employees return to the office, the need for new office furniture including cubicles, glass walls, dividers and more, have been a challenge, says John Ofield, owner of both ROSI Office Systems and Collaborative Office Interiors, both Houston-based office furniture dealers."
John goes on, "Both of our office furniture dealerships have worked to furnish businesses, schools, hospitals for nearly 30 years. During these supply chain shortages, we know exactly where to find office furniture. We talk to our manufacturers on a daily or even hourly basis." For example, a company needs 30 workstations. An online furniture e-tailer isn't available to answer questions or guarantee inventory. Our relationship with manufacturers gives us the flexibility to track down the business furniture our clients need.
What is causing the supply chain disruptions?
The shortage of assembled goods stems partly from the Pandemic. When Chinese manufacturers shut down due to the Coronavirus in 2020, the impact snowballed in the US creating price increases due to a supply gap.
Another factor is that the demand for goods grew quickly—especially the need for home office furniture.
A third cause is a need for more truck drivers. Container ships unloaded at ports around the country rely on trucks to move the goods out. Without trucks to do this, other ships are unable to be emptied.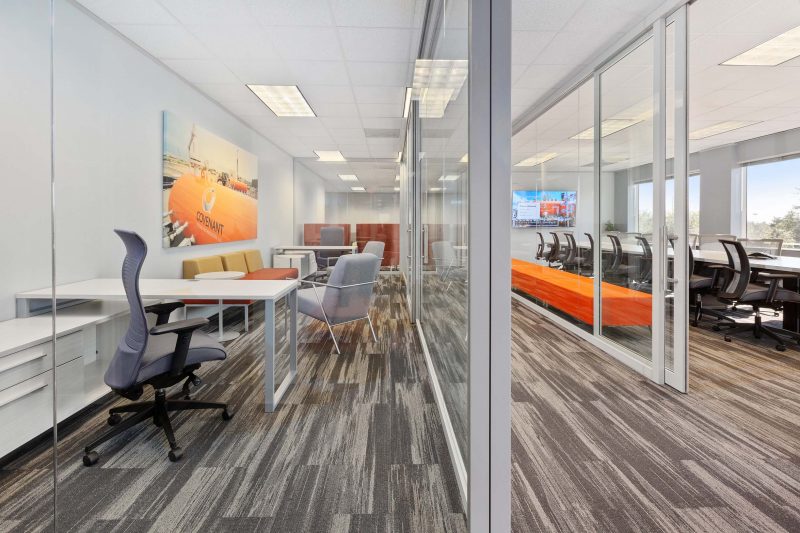 The increased office furniture demand and supply chain shortages are not likely to disappear overnight. According to BizConReporting.com, "Many Americans have waited as long as five to nine months for their furniture orders to arrive." Not only are supply chain issues a cause, but there is a surge in demand as more employees work both from home and the office.
However, the news is not that dire if you know where to look. John said, "our business is to talk to customers one-on-one to design a space that will work and then furnish that space." Businesses that have shopped online to furnish their office space would be best-served to call or email a dealer.
No matter how long the delays continue, furniture dealers like ROSI and Collaborative Office Interiors recommend beginning a new office design early. Of course, this is not always possible. John concluded, "We are experts at jumping in on a project that isn't going fast enough for the client."
Collaborative Office Interiors exists to support business leaders with the workspace environment they need at a price that makes sense to create the office space they need to bring their growing business to the next level.

Whether it's office furniture for 100 or 10,000, we are engaged in your success. Contact us today to find the office furniture you need now.
Related Images: