What is Contemporary Office Furniture?
Though contemporary as defined in the Merriam Webster Dictionary as just "marked by characteristics of the present period," that definition doesn't grasp the essence of contemporary office furniture design. The industry defined the term during the 1970s, but it's been around for centuries.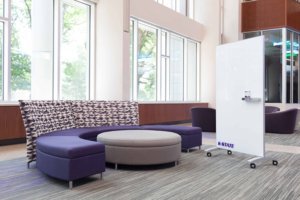 Contemporary office furniture means the furniture that follows the design of today, and it's continually evolving. The modernist art movement has heavy influences in its design as its concepts were directly translated into the furniture-making world. Instead of designing more visually substantial furniture, they took the path of more simplistic visual designs.
Contemporary Design of Today
Contemporary design leans heavily on mid century modern style, but it also incorporates many other styles and periods. In today's contemporary design, we can see influences from many styles: modern, mid century modern, art deco, and even more traditional pieces thrown in for a more eclectic look.
It's adaptable and comfortable, unlike modern furniture from other decades.
Contemporary design includes soft, curvy lines. The palettes are neutral with soft hues. Rooms are typically spacious, and surfaces are minimalistic, almost bare in many cases. Contemporary rooms often display color accents, making them "pop" with a few accent pieces and textural contrasts.
Because it's always evolving, the neutral colors, curved lines, and minimalism that characterize today's contemporary design palettes will likely change in the next decade–or even sooner.
How is Contemporary Office Furniture Different?
Contemporary furniture began emerging in the 1950s. The movement became popular enough that the Museum of Modern Art in New York decided to address the trend of publishing a book titled "What Is Modern Design?" with Edgar Kaufmann Jr. as the author. The book established precepts to dictate what is considered (what was later called) "contemporary furniture." To simplify those precepts, we can divide them into three major categories:
Design | Contemporary Office Furniture
The overall theme of the design is considered. It could be something the future owner of the office furniture is trying to accomplish. Per Kaufmann, the form, colors, and texture of the item should come directly from the materials used. The design should also combine the natural beauty of the elements with an object's utility to present a visually satisfying item. The design should be simple with no redundant materials and having an apparent structure.
Materials | Contemporary Office Furniture
One of Kaufmann's precepts dictates that furniture makers should use cutting-edge materials and take full advantage of new techniques when making furniture. This precept helped start a trend of using solid color fabrics and materials that allowed for a flat, functional surface. Standard and tubular metal materials of various chromatic colors or even a combination of them were frequently used to create the structures of contemporary office furniture. These materials allowed the creation of smooth textures with pronounced edges and crisp lines.
Philosophy | Contemporary Office Furniture
Designers employ a specific philosophy when creating contemporary office furniture. Furniture should answer modern life's practical needs while expressing the spirit of the current period, according to Kaufmann. He also stated that furniture design should help advance the fine arts. The design should convey an object's purpose, the beauty of the material, and methods used when creating the furniture. It shouldn't try to appear to be something it isn't. For example, mass-produced furniture shouldn't try to appear handcrafted. Possibly the most essential part of Kauffmann's philosophical precept was that an item should be able to serve as many individuals as possible, and cost should be maintained at a level that is attainable and affordable to the broader market.

These precepts were also influenced by contemporary European design even before the trend migrated to the United States. Trends began to shift toward function and the broad availability of furniture in Europe, replacing overly elaborate designs. Designers around the globe noticed this and helped spread the style.
Famous Contemporary Furniture
There are always outlying pieces in art that have helped to perpetuate and even define emerging styles. This is just as true in the furniture design world.
The Wassily Chair
Created in 1926, this icon of contemporary furniture was created by Marcel Breuer while working in a German cabinet making shop. It used leather straps and tubular steel to personify a minimalist, functional design consisting of thin geometric shapes.
The Eileen Gray Side Table
This basic bedside table was created by Jean Badovici, a French architect, in 1927. It symbolized her notorious quality of refusing conformity to the popular standards of the time. A unique function was included, which allowed it to be used to serve breakfast in bed. The piece has a conical design and was made from glass and metal, making for a very functional yet visually delightful piece of furniture.
The Barcelona Chair
In 1929 Mies Van Der Rohe and Lily Reich designed the world-famous Barcelona Chair. It was their entry for an international design fair being held in Barcelona at the time. It features curved tubular steel and straightforward leather patterns creating a chair that is exceedingly aesthetically pleasing. The footstool designed for the chair uses the Roman numeral X (10) for its base.
What to Look for in Contemporary Office Furniture
Contemporary Office furniture is any office furniture featuring simplistic design and employing modern materials. Function is paramount, while visually appeal is secondary (but not unimportant). Another equally important goal of contemporary office furniture is that it is both affordable and attainable. While there are numerous sources to find contemporary office furniture, COI has a diverse selection of furniture that fully exemplifies the original philosophy and precepts put forth by Kaufmann.
Don't forget about Ergonomics
The fundamental aspect of functionality should undoubtedly include the comfort and wellbeing of those who use contemporary office furniture. Furniture that is not task-specific doesn't follow our current understanding of the philosophy precept "Design should convey an object's purpose."
COI carries some of the most exceptional collections from leading manufacturers around the world, and our recommendations will only include ergonomically sound furniture designed to support the wellbeing of your workforce.