Is Office Collaboration Important?
Office collaboration is crucial to the success of any organization. The way we work today focuses on innovation, diversity, and inclusion, encouraging new ideas and viewpoints that foster a high-performance work ethic.
Your office furniture is the key to effective collaboration – comfortable and versatile seating groupings that allow your teams to work any way they choose. Private huddle spaces that allow for privacy and autonomy, even in an open office environment – these are all possible in the modern office and, best of all, they can be matched to your style and décor without compromising functionality.
Ergonomic and Beautiful
Ergonomics is described as the process of designing or arranging workspaces and related products to fit the people who will be using them, ergonomics is a concept that features highly in office collaboration.
Ergonomics, as it concerns office collaboration, means that the office furniture we choose—desks, chairs, tables—are designed to optimize our movements while we are using them.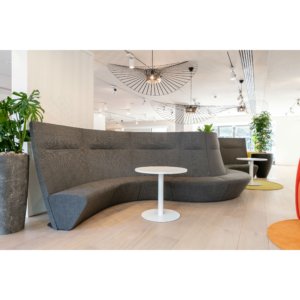 This means that chairs are positioned to encourage good posture and tables are the perfect height for our laptops and other items to be close at hand. Desks provide practical features that are positioned exactly where they should be, minimizing the need to reach too far or uncomfortably for the items we use every day.
Simply put, the better we feel, the freer we are to focus on the task at hand. That translates to improved productivity, which leads to more business, sending value straight back to the bottom line.
Can having the right office furniture improve office collaboration? Absolutely! Even better, you will never have to give up on style to reach your goals. Today's collaborative office furniture is sleek, modern, and stylish, sure to delight your employees and customers in equal measure.
Set up a free consultation with one of our office interior designers today. We would love to show you how easy it is to take your office collaboration to the next level.
See Our Collaborative Furniture Collection
Related Images: