How to Create an Elegant Open Concept Office
Contrary to what you might think, the future of work is not rooted in either technology or some trendy marketing scheme. Those are both great to have, though, and shouldn't be ignored. The future is in the interior space design of your offices.
For a company to succeed, it needs great talent. The brightest talent will want to spend their workdays working for a business that is not only successful but whose open concept office is inviting and pleasurable in which to spend their time. The design of your office could be the difference between drawing and repelling the individuals you want to work for you. In fact, it's also possible to improve overall productivity and increase engagement with strategic office space planning.
Here are the top open-concept office design trends to implement in in 2020.
Bring Some Style into Your Office with Patterns and Colors
One of the simplest and least expensive ways to give your open-concept office an added flair is using wallpaper. Depending on your industry, it can be as classy or funky as you like! Be sure that it speaks to your brand, however, and don't go overboard.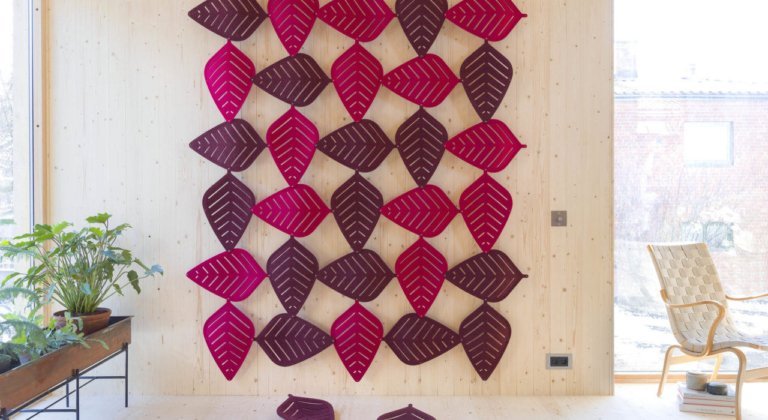 To keep your office professional and elegant, choose one wall in each area to be your "accent wall" with your wallpaper. Each area can have its own pattern, also! This can give each department their very own personality, at the same time, maintaining your chosen aesthetic.
Create an Outdoor Workspace (The ultimate open-concept office)
Remember back in school, you'd stare out the window at the beautiful weather. You'd sit there, wishing you were on the other side of the glass. You'd raise your hand, asking the teacher, "Can we do class outside?" Humans have an intrinsic desire to be outdoors. Creating an outdoor workspace for employees will boost morale, positivity, collaboration, and productivity.
An Eternal Classic: Using Art in Your Open-Concept Office
One of the best ways to add color and style is with great art. Images of sunsets on a beach with inspirational quotes are SO VERY MUCH O-U-T. Potential talent sees stuff like this, and the impression isn't that your office is empowering—its average.
Replace outdated pictures with real art. When people notice art on your walls, it shows your office has style, taste, and class. Depending on your office's aesthetic, you have the choice of abstract, renaissance, or even impressionism. You don't need to go to a gallery and pay thousands to decorate your open-concept office space. Businesses like Art Addiction make novelties and masterpieces affordable!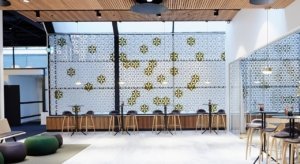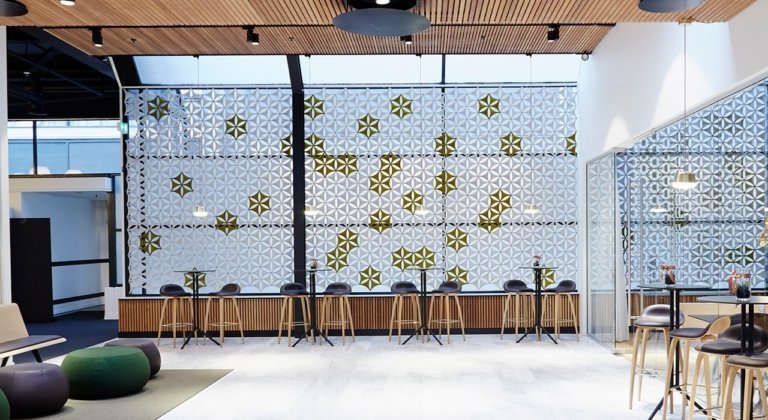 Be sure to hang your art on a wall with adequate space. It should balance well with the dimensions of the room, not overpower or get lost in it. Also, make sure the art is in a location that has good lighting. There's no point in having art if no one can see it to appreciate it.
A Relaxing Alternate to Office Décor: Residential Aesthetic
Office workers spend most of their time in the workplace. It makes sense to have an environment that feels comfortable and familiar. Let them find a second home at work by designing your open-concept office with the simplest but most underrated aesthetic: a residential touch.
Your employees can feel right at home with living room style furniture and comfy chairs. Though it may appear strange to some, the philosophy behind this aesthetic is that people are typically more productive when they feel relaxed and comfortable. They don't mind staying later quite as much either.
Some environments directly affect stress levels, so designing it to be as familiar and comfortable as possible is a genuine solution.
How Employees Work Is Changing. Incorporate Adaptable Working Spaces in Your Open-Concept Office Design
Creating a collaborative office environment starts with designing workspaces purposed for teamwork. Take your team huddles out of the breakroom areas where others often disrupt your meeting. Adding space in your office designed specifically for casual collaboration will give your staff the liberty to think and speak productively. The best thing is that you can easily incorporate them into any open-concept design due to a large selection of system designs.
Oak Tabletops: Using Natural Products in your Open-Concept Design
Perfect for any business wanting to update to an open-concept layout. Natural oak is the vogue office décor. Minimal, natural, and elegant, oak brings nature indoors. The light color brightens the space, having a positive psychological influence on employees, boosting productivity and morale.
Modern Lighting for an Elegant Open-Concept Design
An effective open-concept office design will not only have an enhanced furniture layout but will also make lighting a priority.
Ideally, you will want to bring in as much natural light possible. However, dependent on the layout of the office, natural light may be scarce or even non-existent in some rooms. When possible, eliminate the dreadful, harsh florescent lighting typically found in office ceilings. Instead, use modern lighting to brighten up the space. Sleek fixtures not only look more impressive to potential talent but will likely use more energy-efficient bulbs. Cerno has some great examples of this
Use Recycled Materials in Your Open-Concept Office Design
One of the major trends to watch for in 2020 (and likely beyond) is the use of recycled furniture and materials in commercial interior design. Pieces that are recycled, repurposed, and recreated into something totally new are designed to be elegant. The products are not only impressive and beautiful, but they stem from a good cause. Anyone working or considering working in your office will have the impression that your company that cares for the environment. That is a huge and positive impression to give.
Bring Nature Inside
Use live plants in your decorating, even an entire wall with them! Plants have a measurable positive psychological effect, all while introducing more oxygen into your enclosed office setting. Planning living walls into your open-concept layout plays on the philosophy that humans have an intrinsic desire to connect with nature. By bringing nature into your office, it not only shows you care about the environment, it also shows you want to nurture positivity. Plants also provide a vibrant touch of color in a unique way.
Using Space Dividers in Your Open-Concept Office Design
While the open-concept office is fast becoming the biggest trend of modern workplaces, workers still need a space where they can work distraction-free at times. This possible by incorporating space dividers: walls used to provide niches for coworkers to work independently but without confinement.
Consider using glass walls. Glass walls allow more natural light but still allow privacy, even digital screen, and acoustic privacy while maintaining an open concept design. Moreover, glass wall installation is quick and easy with little interruption to the work routine.
An elegant open-concept office design attracts talent, enforces your brand, and the message you want your business to send.