Glass Office Walls
While the office spaces of today continue to get smaller, they are also becoming more transparent. Glass office walls have become an exciting new solution to answer the changing needs of the modern workplace, providing alternatives that are as flexible as they are beautiful.
Why You Need Glass Office Walls
Let's face it: a closed-in office design is a thing of the past. However, there are still situations that require some separation.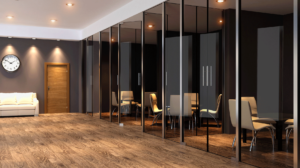 For instance, if you are a recruiter, you will need private spaces to conduct interviews. If you are a global company, you may occasionally need to host teams from other divisions. If you have remote teams of any type, they may need to come to the office to attend to paperwork or meetings. In any of these circumstances, glass office walls can create the spaces you need without giving up interior sightlines, views, or natural light.
It's a well-known fact that natural light in the workplace makes employees happier and healthier and, if they are, they may not ever look for another job. This will not only save you the time and resources you would invest looking for new talent, but it just may encourage your current teams to work harder and accomplish more for you – and that's an advantage that translates to productivity and profits.
Affordable Glass Office Walls Offer the Ultimate in Flexibility
To support the changing needs of the business, your office space must be as flexible as possible. Glass office walls are demountable, meaning that they can be taken down and remounted whenever you need to reconfigure your office interiors.
No more calling the contractor and enduring days or weeks of dust and building noise as they remove and rebuild walls! Your glass office walls can be relocated with a minimum of fuss, saving you time, money, and stress in the process.
To learn more about what glass office walls can do for you, reach out today. We'd love to talk to you about how we can help.
Related Images: