Glass Office Dividers For Houston Offices
Today's dynamic office environment demands flexibility. With more and more companies opting for a remote or transient workforce, the need for dedicated office space tends to change on a regular basis. Office interiors need to remain functional, but fluidity is important too. Glass office dividersare a stylish and highly adaptable way to accommodate your changing needs and, best of all, they provide value that goes above and beyond.
For instance, glass office dividers allow you to reimagine your office spaces as often as needed for maximum flexibility. Planning to scale? No problem. Downsizing? It's a fast fix. If your office space is largely open-concept, glass office dividers allow you to configure workspaces to your changing needs and pivot on a dime should the need arise.
Glass office dividers are the greener choice
In addition to convenience and design, glass office dividers are environmentally friendly. They carry a range of LEED advantages as they are manufactured locally, reduce construction waste, are made of materials that have a low emissions rating, and provide access to natural light. In addition, most are made from recycled content, meaning you can feel good about them for all the right reasons.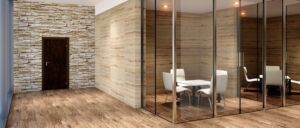 Glass office dividers are easily moved and remounted, they install super-fast, and they are durable enough to last many years. Installing demountable panels is a great tax incentive too as their depreciation factor is far more advantageous than traditional construction.
Demountable walls eliminate the time it would normally take to rebuild and reconfigure your office, allowing you to get down to business faster and more efficiently. But, did you know that they are also made right here in Houston?
If you are looking for some great office interior design ideas, schedule a free consultation with one of our designers and discover what's possible.
Related Images: