Choosing Collaborative office furniture
Collaboration is at the heart of business success. It stands to reason that collaborative office furniture should be the foundations of those values. After all, your future is riding on those assets – the more comfortable that ride is, the more exhilarating the win!
If your company depends on collaboration, your office should reflect those ideas from end-to-end. From collaborative furniture groupings and huddle spaces to lounge areas and conference rooms, the possibilities are endless. With the right approach, your marketing teams will be innovating like never before, your employees will be more productive in their daily tasks, and your visitors and vendors will be looking for reasons to drop by.
Choosing office furniture: where to start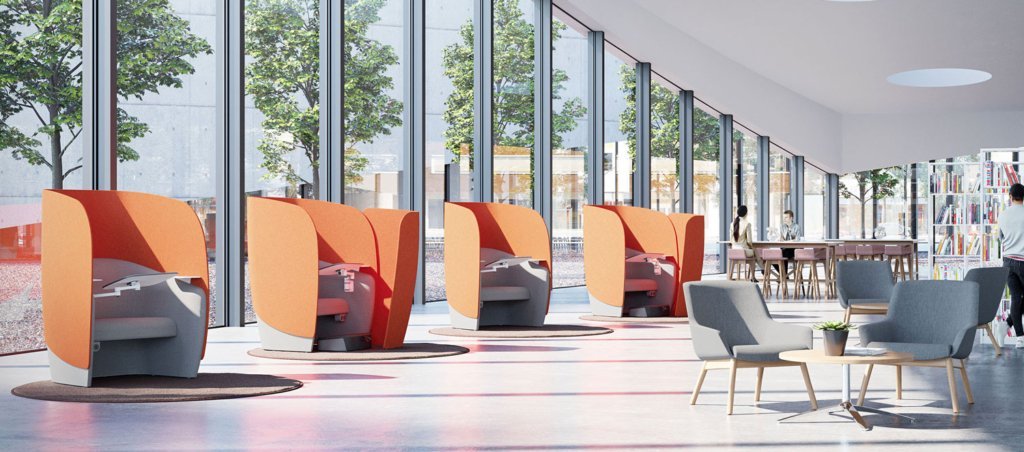 Choosing collaborative office furniture shouldn't be a chore. The way you choose to furnish your office should reflect your personal style as well as your brand image. With the variety of collaborative office furniture styles and designs available, your biggest problem will be deciding which one will be the ultimate winner!
Adaptable products like the ATOM Breakout Collaboration Collection offer modern styling with traditional quality. Comfortable seating is fully equipped with power and data outlets to accommodate today's technology, and you can choose from a wide range of fabrics and colors to suit your tastes.
If you have an open-concept office space, you might want to consider some more quiet areas that are still conducive to collaboration. Cocoon is just such an item: much like its name suggests, Cocoon offers some separation from the main parts of the open office. It's a quiet area to connect for small breakaway teams and can be finished in any fabric, including leather or vinyl. For conferences, an extra partition can reduce outside noise even more.
These are just a couple of the options you might consider in collaborative office furniture, but with so many options to choose from, we are always here to help. Call today to set up a free consultation with one of our office interior design specialists.
Related Images: