Evolve 4-Person Semi-Private Workstations, 4-Way Facing Rows – EV507
Evolve 4-Person Semi-Private Workstations, 4-Way Facing Rows
Furniture for today, flexibility for tomorrow.
Modern office cubicles have become popular again as companies move toward an office design that socially distances and keeps employees safe! Evolve systems create walls not barriers. Create a complete office floor plan using a single line. Fully integrated components and finishes help create a look that is uniquely yours. The Evolve 4-pack with panel heights of 48″ will provide moderate privacy.
A combination of freestanding and panel mounted components can be used to add privacy, divide space and create a unique work space environment. Panels stack effortlessly and allow private (and semi-private) work spaces to be constructed. No need to rely on existing walls, letting you tailor a solution that fits your needs. Integrate plug and play connectivity at the work surface using the 'scoops' to pass wires from desktop equipment to the primary base feed. A range of ergonomic work surfaces and practical storage options enable cost-effective planning. Interchangeable laminate and glass finish options can be used to achieve varying privacy, acoustical and aesthetic needs without needing to disassemble panels offsite.
Evolve builds are ergonomically friendly and provide practical storage options.
Plug-and-play connectivity with smart wire management.
Topside acrylic paneling offers allows light in, and may serve as a handy germ barrier for your open office plan.
Get a return on each employee's office space. The bridge at the side gives you extra room to move. Multitask friendly.
Underside storage consists of a slim drawer for small items pens and pencils. You will have room to spare with additional shelving beside.
Mineral fiber insulation is fire resistant, water repellent and will not support the growth of fungi or mildew.
Make these office workstations part of the company. Choose from the available paint and fabric colors. Mix and match from the available laminate colors.
Expand one's space as necessary – This model is also offered as an 8-Pack for your floor plans.
Brochure: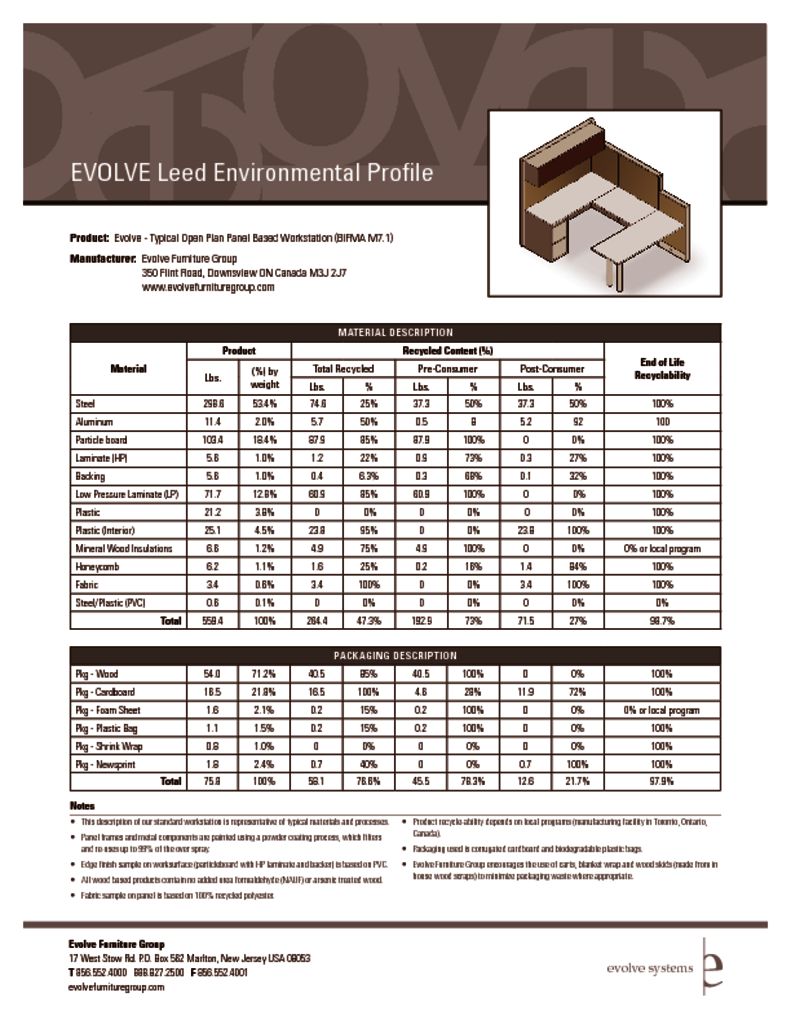 Sustainable always. Evolve supports wellness programs like LEED, WELL, GREENGUARD and LEVEL. Certified for low emissions for better indoor air quality, panels are manufactured from 82% recycled materials and are 100% recyclable. Evolve is durable and flexible, ensuring it remains relevant and out of landfill.
Let's Get Started…

<h3 style="text-align: center;">Request a Consultation</h3>
<p style="text-align: left;">Let us help you create the perfect office for your team!</p>