What Is An Open Seating Office?
Today's popular open concept office design trend is sweeping the world of business. As global enterprise becomes more competitive, it is crucial to bring teams together to brainstorm, collaborate, and innovate. Providing your workforce with an environment that encourages collaboration is key. Choosing the right open office seating can help you channel the talents of a high-performing team, bringing benefits that deliver value straight back to the bottom line.
But today's business requires a modern approach to office configuration. Modern benching and desk systems provide configurable table assemblies that can be integrated with your existing office furniture.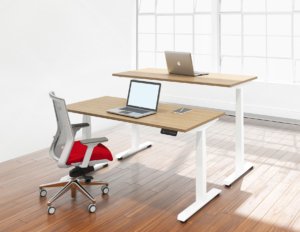 For teams that engage in active interaction, adjustable height desks provide opportunities to support healthful work habits – variable height desks and benches could even help you attract a whole new class of young, motivated, and health-conscious employee! KINEX adjustable height benching offers the choice of three different stage settings and can be configured in many ways, giving you ultimate flexibility in both form and function. Optional fabric privacy screens can also be added to provide separation and a little sound barrier between work areas.
Hybrid Post and Beam Panel Workstations gives design options that you may not have thought possible in an open office seating configuration. With round, oval or rectangular profiles, the design potential is virtually endless. Even if your team grows and you need to re-imagine your open office space, the Hybrid system disassembles easily so you can reconfigure it into a more appropriate grouping. With a wide range of popular colors to choose from, it's easy to complement your interior office design seamlessly, creating a cohesive look from the reception desk to meeting rooms to the executive suite.
Redesigning your open office plan and don't know where to start? Schedule a free consultation with one of our office design specialists today to answer all your questions.
See Our Open Plan Office Partitions