Contemporary Desk Furniture
Contemporary desk furniture is essential in the modern office. Today's office functions require a highly specialized type of desk that combines form and function into a sleek package that supports your teams' productivity while satisfying their aesthetic sensibility.
Your office furniture reflects your company's brand image. A well-designed office instills your employees with a sense of pride and may even help to attract top talent when it comes time for you to expand. Studies show that office employees see contemporary desk furniture as a measure of how valued they are by you – and if office furniture can do all that for your team, why wouldn't you want to indulge them? They are, after all, the foundations of your success and innovation!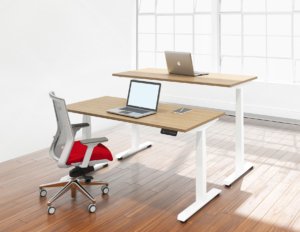 Contemporary desk furniture comes in a wide range of finishes and styles to suit your office décor. With bench dividers and storage unit heights that are adjustable to your needs, you can maintain pleasing ideal sight-lines while still allowing for worker privacy and autonomy.
Adjustable height desks are also a great idea, enabling an active workspace while providing versatile power distribution and cable management options that are as smart as they are progressive.
And speaking of technology – One of the most impressive features of the contemporary desk is that they are designed with today's technology in mind. This means that no matter how many computers and peripherals you need to get the job done, your contemporary desk can accommodate. With cable cutouts Even in a technology-rich environment, there are no unsightly piles of "spaghetti", no cords to trip over, and no problems in placing power sources or data modules.
Today's flexible office demands contemporary desk furniture. Get in touch today to schedule a consultation with one of our modern office design specialists.
Related Images: