[la_heading title="Architectural Walls"]
In recent years, the cost of new office construction has continued to rise. This trend, coupled with the movement toward an ever-more mobile and transient workforce has necessitated much change in office design. As companies grow, it often becomes necessary to rethink the design of the office itself. If your organization is undergoing this type of change, choosing demountable architectural walls could be the solution you've been looking for.
[/la_heading]
[la_heading title="What are Architectural Walls?"]
Architectural walls are reusable, demountable walls that allow you to configure and reconfigure your office interiors according to your needs. They are functional, design-friendly, and they come in many styles that support the way you work.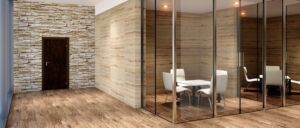 Some of the benefits of architectural walls include:
Noise-reducing, giving your employees the peace and quiet they need to get things done.

Transparent architectural walls allow natural light to permeate your space.

Architectural walls support a

healthier work environment

.

Easy to install and remove.

Allows you to reconfigure your office space as needed, perfect for today's changing workforce requirements.

Reduces costs: architectural walls are less expensive than drywall over the long-term as they can be reused indefinitely.

Green, sustainable design.

Tax credits are available to companies who make sustainable choices.

Architectural walls give you

LEED credits

towards sustainable building design certification.

Many

styles and options

to choose from.
[/la_heading]
[la_heading title="Architectural Walls and the Modern Workplace."]
Today's office design
bears little resemblance to that of decades past. Though we have finally moved past the era of the cubicle, even a collaborative, open office environment needs some areas that offer more privacy, either for executives, for making phone calls, huddle rooms, or to privatize sensitive discussions.
Space allocation needs change over time. Employees and even those in leadership positions come and go, and when they do, your office needs to remain as efficient as possible. If you would like to learn more about how architectural walls can help your office maintain top productivity, reach out to schedule a consultation today. We'd love to show you how we can help. [/la_heading]